Date/Time
Date(s) - October 9, 2021
11:00 am
Location
Muthamil Public School
Categories
Are you are interested in the conservation of cultural heritage assets of Nellai, then do join Nellai NeerValam: "Dialogue Series 2021".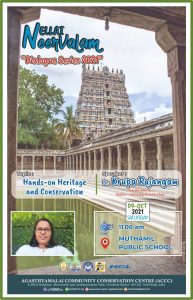 Lecture Title:

Hands-on heritage and conservation
Speaker Name & Designation:
Dr. Krupa Rajangam, Founder-Director, Saythu…linking people and heritage
Date & Venue:
9 October 2021, Saturday, 11am.
Muthamil Public School,  7/55, Muneerpallam 627356, Tirunelveli – Shencottai Rd, Tamil Nadu
Subject:
In this talk, Krupa will present an overview of cultural heritage and its conservation drawing on case studies from over two decades of field-and-research-based conservation experience. She will bring up three main viewpoints for discussion through the case studies: one – monuments can be heritage but heritage is not just monuments; two – history can be heritage but heritage is not purely history and three – conservation involves the application of scientific techniques and skills but it is so much more than that.
Speaker Bio:

Krupa Rajangam, PhD (Conservation Studies), is a cultural heritage practitioner-scholar with over 20 years field-based conservation experience. Besides undertaking expert consultancy her professional interest remains rooted in community-centric conservation.
She is Founder-Director of the Bengaluru-based heritage collaborative Saythu that is led by conservation professionals. The group works to promote conservation as an integrated inclusive social process, by bridging theory (academy), practice (field), and peoples' lived experiences, through various initiatives, projects, and teaching-learning engagements.
Her research interests, based on ethnography of Hampi World Heritage Site, include the politics of heritage and its conservation and critically examining the governance structures of UNESCO World Heritage Sites.
She writes both popular articles and publishes regularly in international peer-reviewed journals. She was recently incubated at the NSRCEL IIMB and Goldman Sachs Women Startup Programme and held a research fellowship at NIAS (National Institute of Advanced Studies). She is a Charles Wallace scholar and a Zibby Garnett fellow.
Bookings
Bookings are closed for this event.